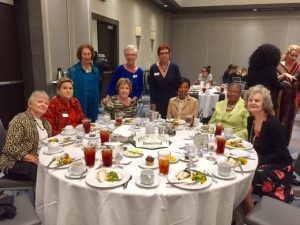 Several members and friends of the Portsmouth Branch AAUW attended the H.E.R. Shelter SMART Women Luncheon today. We are proud to support the work of the H.E.R. Shelter which provides shelter and support resources to women and children who are victims of domestic violence.
---
Portsmouth Branch AAUW members filled Baby's Book Bags for the Portsmouth Reads program at their September 16, 2019 branch meeting.  Portsmouth Reads distributes these bags to new mothers in Portsmouth to provide information on resources available in the community and parenting guidelines on things such as safe sleep and car seat safety.  Each bag also includes a new board book for each baby.
---
NEXT BOOK GROUP MEETING:
November 9, 2020
7 p.m. via ZOOM
Members will discuss key points from various books addressing 
racism and antiracism.
If you are interested in participating, please contact us for the link.
NEXT BRANCH MEETING:
November 16, 2020
7 p.m. via ZOOM
Our program will feature a presentation
by a representative of the H.E.R. SHELTER     
(A Portsmouth program for battered women and their children)
If you would like to join us, please click on our contact us link.
---
The American Association of University Women (AAUW) empowers women and girls through advocacy, education, philanthropy, and research. Our nonpartisan, nonprofit organization has more than 170,000 members and supporters across the United States, as well as 1,000 local branches and 800 college and university partners. Since AAUW's founding in 1881, our members have examined and taken positions on the fundamental issues of the day — educational, social, economic, and political.
---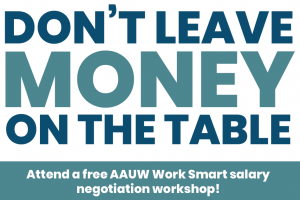 ---
Give to AAUW Greatest Needs Fund
Because Greatest Needs funding is unrestricted, it gives AAUW the most flexibility to address the challenges today's women face and seek new programs and opportunities. AAUW appreciates every day and dollar our members spend working for us, and we're particularly grateful for these donations that give us the flexibility to maximize your impact. Donate today!