Like fighting an addiction, being an antiracist requires persistent self-awareness, constant self-criticism, and regular self-examination", Ibram X. Kendi, HOW TO BE AN ANTIRACIST. This book, along with several additional books with powerful messages, were reviewed and discussed at the Portsmouth Branch Book Group meeting on November 9, 2020. Our members are committed to continuing this discussion as we identify ways that we may individually and collectively become more consistently antiracist.
---
NEXT BOOK GROUP MEETING
Monday, March 8, 2021
7 p.m. via ZOOM
Members will discuss DISAPPEARING EARTH by Julia Phillips
If you are interested in participating, please contact us for the link.
Monday, April 12, 2021
7 p.m. via ZOOM
Members will discuss THE SPLENDID AND THE VILE by Erik Larson
UPCOMING BRANCH EVENTS
Tuesday, March 16, 2021, 6:30 p.m. – Celebrating 100 Years of Women Voting, Wendy Miller-Ewards, Professor, Paul D. Camp Community College. Virtual presentation
Monday, April 19, 2021, 7:00 p.m. via ZOOM
African American History Course being piloted in
Portsmouth and Suffolk Schools
Our guest speaker will be Christonya Brown, the liaison between the Virginia Department of Education and the piloting teachers.  Ms. Brown will discuss how the course was developed by a special committee of teachers, how it is structured, and how teachers and students are reacting to what's being taught. It's a perfect opportunity to learn how Virginia is attempting to change the curriculum to insure that students get the real story of the African American experience. 
If you would like to join us for any of these events, please click on our contact us link.
---
In Memoriam
Mary Swain American Association of University Women (AAUW)
The AAUW Portsmouth Branch celebrates the life and memory of our longtime friend and member, Mary Martin Swain.  Mary, age 80, ​ passed away Sat. Nov. 7, 2020. She was born on June 24, 1940. A memorial service will be held at a later date. She was survived by ​ her husband of 53 years, Robert Swain, ​ 2 sons, 4 grandsons and 2 great grandchildren.
Read more here
---
The American Association of University Women (AAUW) empowers women and girls through advocacy, education, philanthropy, and research. Our nonpartisan, nonprofit organization has more than 170,000 members and supporters across the United States, as well as 1,000 local branches and 800 college and university partners. Since AAUW's founding in 1881, our members have examined and taken positions on the fundamental issues of the day — educational, social, economic, and political.
---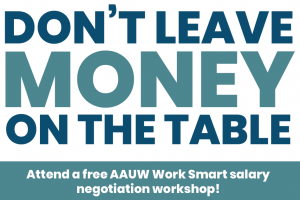 ---
Give to AAUW Greatest Needs Fund
Because Greatest Needs funding is unrestricted, it gives AAUW the most flexibility to address the challenges today's women face and seek new programs and opportunities. AAUW appreciates every day and dollar our members spend working for us, and we're particularly grateful for these donations that give us the flexibility to maximize your impact. Donate today!