Our April 19 branch meeting via Zoom featured a presentation by Christonya Brown, History and Social Studies Coordinator, Virginia Department of Education. Ms. Brown shared information about the new African American History course that has been piloted in 16 schools in Virginia this school year. Joining our meeting were two of the teachers from Portsmouth and Suffolk. Following a highly successful pilot program this year, the course will be available to every school in Virginia in 2021/2022. Ms. Brown explained how the content and the approach to instruction have been developed and implemented this year. We were pleased to have representatives from Norfolk and Suffolk AAUW as well as members of our community join us for this meeting.
---
NEXT BOOK GROUP MEETING
Monday, November 8, 2021
7 p.m. hybrid meeting in-person and ZOOM
Members will discuss EXIT WEST by Mohsin Hamid.
If you are interested in participating, please contact us for the link.
PLEASE NOTE: THE 2021-2022 BOOK GROUP LIST IS POSTED UNDER THE BOOK GROUP TAB
UPCOMING BRANCH EVENTS
Southeast District AAUW Virtual Meeting Saturday, October 23, 2021, 11 a.m. – 1 p.m.
Monday, November 15, 2021, 7:00 p.m. via ZOOM
Portsmouth Branch meeting: Program information to be announced.
---
The American Association of University Women (AAUW) empowers women and girls through advocacy, education, philanthropy, and research. Our nonpartisan, nonprofit organization has more than 170,000 members and supporters across the United States, as well as 1,000 local branches and 800 college and university partners. Since AAUW's founding in 1881, our members have examined and taken positions on the fundamental issues of the day — educational, social, economic, and political.
---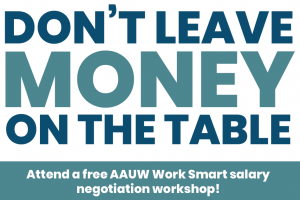 ---
Give to AAUW Greatest Needs Fund
Because Greatest Needs funding is unrestricted, it gives AAUW the most flexibility to address the challenges today's women face and seek new programs and opportunities. AAUW appreciates every day and dollar our members spend working for us, and we're particularly grateful for these donations that give us the flexibility to maximize your impact. Donate today!